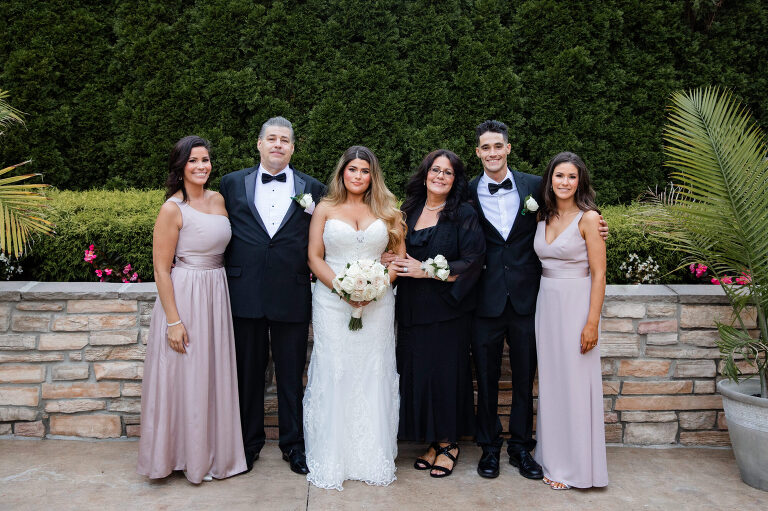 The Formal Shot List Defined
When you receive your wedding gallery from Kaleidoscope Imagery, the whole day will be revealed piece by piece. You will experience the candid moments, the laughs, and the tears. You will get to savor the beauty of the little things such as flowers, place settings, jewelry, and decor. You will see yourself glowing with the joy that only truly momentous occasions bring. Among artsy portraits of you and your new spouse walking down a scenic pathway or snuggling as the sun sets behind you, you will see some photos with a more traditional and timeless flavor: your formal shot list. 
Formal photos are pretty much what they sound like. Different groups of family members and loved ones will stand alongside you and smile at the camera. The background will be clean and free of distractions. These are simply beautiful, posed portraits of several different groupings. 
Why are formal portraits so important?
This collection of images is critical to your gallery for several reasons. It is a guaranteed place in the day where you will actually be posed, looking at the camera, and smiling. Beyond this section, the rest of the day will feel far more natural and fluid. The formal session is where you have the power to take control and make sure all the groupings you want get taken care of. Many times, this will include elderly or ill family members, loved ones that don't often come together at the same place and the same time, and groups that your other family members will care about deeply. These photos often end up on mantles, walls, and in holiday cards. It is almost like getting your family in for a studio portrait, except its on one of the biggest days of your life. It is really important! 
However, the formal shot list can often be one of the most stressful parts of the wedding day. Couples underestimate how difficult it can be to depend on large groups of people to be ready and present. They underestimate the powerful allure of cocktail hour, where drinks, snacks, and revelry quickly draw people away from the task at hand. I have shot through many formals, and have had the opportunity to witness the good, the bad, and the ugly. I want to help you be armed with solid information and strategies to create your list like a seasoned champ, so you can get through it and back to your day as soon as possible. Here are my biggest tips. 
Tip #1: Strategize the list ahead of time.
You will create the list and submit it before your wedding. On the day of, it will be used as a checklist, each grouping being called in the order they are written. With that in mind, you want to imagine a flow of groupings that makes sense. For me, it follows these guidelines:
Start with the largest groupings, and break them down into smaller ones. Extended members of the family such as aunts, uncles, and cousins will then be able to go to cocktail hour quickly.
Take all images with elderly and ill family members in the beginning. They also will appreciate being able to go sit down and get something to eat. This is especially important for outdoor photos in hot weather. 
 Allow a majority of groupings to include both you and your spouse and skip duplicates of one with the spouse and then one without. Of course, there are certain groupings you will want just of you AND a separate one with your spouse (such as with parents), but for most of the images, allow you and your spouse to stand in the middle and have people hop in and out. It will go quicker that way. 
Imagine every grouping is a minute. From the time it takes for people to move into and out of the frame, get set up, and be photographed, imagine a minute has passed. With that in mind, my recommendation is to not exceed 20 groupings, with a suggested 10 for each side of the family. In twenty minutes, we should be wrapping up. Of course, you can override this suggestion if more groupings are significant to you. If that is the case, be aware that your shot list may take more time to get through. 
Use some sample shot lists as guides. Here is one from Wedding Wire and here is another from The Knot. If you are a Kaleidoscope bride, you will be given a family formal template to help you plan! 
Tip #2: Communicate With Everyone on the Shot List
I should say, communicate MORE than you think you need to ahead of time. I can't tell you the amount of times where couples were convinced that their family would cooperate on the big day, only to find half of them missing when it was finally time for the shot list. Communication really is key. Let them know BEFORE the wedding, directly, that they are in the shot list. Tell them where they need to be and when. The formal shot list is almost always right after the ceremony, so a lot of times they simply need to stay afterwards. 
Tip #3: Designate a Helper
Someone will need to be the quarterback on your team. This will probably be the maid of honor or best man, or a sibling. Let them know you will need their support during formals, and that they should be prepared to track down missing family members, and rally large groups together. The Kaleidoscope team will absolutely be doing this alongside you, but your helper will know how to find Aunt Ethel much quicker than we will. This person should know that this is one of their duties for the day, and anticipate it being  one of the areas where they are needed most. 
Going With the Flow
When the formal shot list flows without hiccups, it can be done in less than 20 minutes. This is usually followed by about 10 minutes of bride and groom photos, which allows for couples to enjoy at least half of their cocktail hour. Some couples don't mind missing their entire cocktail hour while others don't want to miss a single moment. If you are in either of those categories, it is definitely something to be discussed in your timeline consultation so the day is perfectly tailored to your wishes. 
No matter what happens, the Kaleidoscope team will go with the flow and fulfill your wishes during this time of the day. All of these suggestions come from experience, but are certainly not one size fits all. The timeline consultation is the best time to go over how your wedding may present unique circumstances for formals. Please let us know any and all questions you have!
I hope these tips help in smoothly achieving images of your family to live on for generations, while also getting you moving and grooving to the party, where you should be. For more timeline tips, reach out to us any time. We are here to help!
With love,
Nicole